Update: Large Fires Burning Across Sierra Nevada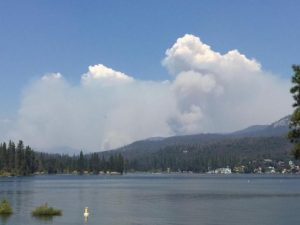 Railroad Fire Visible From Bass Lake

View Photos
Update: The Stanislaus National Forest has released a new update on the Creek Fire. It is now 483 acres and 5-percent contained.
Original story posted at 6:36am: Sonora, CA — The Creek Fire burning near Clear Lake in the Mi-Wok Ranger District of the Stanislaus National Forest is 420 acres and there is no containment. 94 firefighters are assigned to the incident. It is burning in steep, inaccessible terrain, with heavy amount of dead and dying trees. It is in an isolated area. Fire crews have been allowing the fire to burn out naturally where possible, utilizing trails, creeks and natural barriers to slow the fire's growth.
The Summit Complex Fire in the Stanislaus National Forest, burning near the Dardanelles in the Summit Ranger District, is 4,653 acres and 30-percent contained. It consists of three lightning caused fires. Some nearby roads and campgrounds remain closed, including the Clark Fork Campground, San Flat Campground, Camp Liahona and Camp Peaceful Pines. There are 125 firefighters assigned to the incident.
The Railroad Fire in the Sierra National Forest is holding at 12,407 acres and there is 87-percent containment. 536 firefighters continue to mop-up the incident near Sugar Pine and Fish Camp. 11,464 of the acres burned are forest service land and 943 acres are private land.
Fire activity has been low on the South Fork and Empire fires burning in Yosemite National Park, and they continue to be monitored by fire officials. The South Fork Fire is 6,740 acres and the Empire Fire is 6,000 acres.