Contractor Clears Metal Parts Tied To Hwy 49/108 Multiple Flat Tires Mystery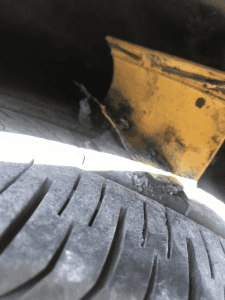 Highway reflector stuck in Kathleen Boone's flat tire, Sept 7 2017

View Photos
Update at 8:41 a.m.: Apparently Caltrans and its contractor rethought the prospect of subjecting Mother Lode motorists to continue risking punctured tires while driving over a highway stretch confirmed to be strewn with metal parts.
This morning, Clarke Broadcasting received an email from Teichert Construction, the company handling a Highway 49/108 repaving project between Jamestown and Sonora where temporary highway reflectors also known as "floppies" were being affixed to the roadway with nails and other metal pieces, causing multiple recent incidences of flat tires.
In the email statement, Teichert spokesperson Clark Hulbert reports, "All floppies that were nailed down were removed and replaced with adhesive only floppies last night. The striping schedule remains the same for Sunday night and Monday night shifts."
Yesterday's update to the saga follows below along with a link for victims to submit a damage claim form to Caltrans.
Friday, Sept. 8, 2017 at 3:52 p.m.: Sonora, CA — While the Mother Lode's "Puzzle of the Punctured Tires" mystery has been solved victims and other motorists traveling along a certain highway stretch still need to take care.
As we reported here yesterday, after Clarke Broadcasting provided evidence of metal parts in active use along Highway 49/108 between Jamestown and Sonora as part of a repaving project, Caltrans officials who previously stated that it was not possible regrettably confirmed that its contractor, Roseville-based Teichert Construction, was indeed using nails to attach temporary highway reflectors. Also stated was that the contractor would be removing the "floppies," as they are commonly called, and henceforth using only adhesive, which is part of Caltrans' standard operating procedures.
However, earlier today Clarke Broadcasting took note that highway reflectors containing metal — both still attached as well as some that were loosely scattered — were still clearly visible along the highway stretch.
Querying Caltrans officials to provide an update on the status of removal efforts, this reporter heard from spokesperson Warren Alford. He shares, "From what I understand our contractor is in the process of getting those things removed and so, as soon as they get done with that today, then the only 'floppies' that will be out there will be ones that are affixed with a standard glue." So, he continues, "Some of those may still get dislodged but if somebody drives over [one], it will not cause any damage to their vehicle."
A Frustrated 'Solution' For Making 'Floppies' Stay Put?
Attempting to answer why a contractor working on a road surface would choose to use nails at all, Alford offers, "Well, certainly when you have a road that is uneven [such as] when they are grinding out the pavement, I can understand that sometimes it is frustrating — because you want to have those lane markers in there for safety — but we also want to make sure that we are not having material out there that is not standard and that may be causing damage to peoples' vehicles. So we have directed the contractor to take care of that — and we are confident that is going to happen."
Alford describes Teichert Construction as being among Caltrans' key partners. He maintains, "We certainly respect their ability to do good quality work and they are being responsive for us right now on making sure that the standard practice is being followed and resolving the issue."
A subsequent call from Clarke Broadcasting to Teichert Construction, asking when crews were being scheduled to address the issue, drew a response from spokesperson Clark Hulbert. "We are going to periodically monitor the area over the weekend," he explains, adding that loose reflectors will be removed by local personnel as they are spotted. Since the scheduled crews are returning Sunday night, he estimates that by Tuesday morning all the offending reflector and metal parts should be gone. He admits that in the meantime, it is still possible for some unlucky motorists to puncture a tire.
Asked why nails are used at all, Hulbert maintains that his company does miles and miles of paving across California and has infrequently used nails before under certain conditions with no previous consequences to motorists. Now that the practice has created an issue in this instance, he says Teichert will not be engaging in it again.
Accountability For Damages, Claim Filing Options
While Alford says no one has yet filed a claim for tire damages, anyone who believes the metal in the reflectors caused vehicle damage may file a claim. As Alford instructs, "People can file for a variety of things. [Claims] up to $10,000 are handled through Caltrans, which along with the contractor [who retains liability] makes determinations…which items would fall into the category of needing to be repaired and replaced. They can essentially include a range of things but there will certainly be limits as to what we are actually able to provide."
Items that might be submitted include repair or replacement of a punctured tire. When asked if a rental vehicle or lost wages might also be considered, Alford concedes that it is possible. "People are not limited to what they can legitimately say is a damage that they have incurred," he states. However, he emphasizes, "Whether or not that ends up being paid at the end will be based on an investigation that will happen."
Hulbert adds his company's apologies for the inconveniences, also promising, "We are going to endeavor to do the right thing here on a case-by-case basis."
To learn more about submitting a claim and to download a form, click here.