Update: Telling Pictures Surface In Mystery Of Multiple Flat Tires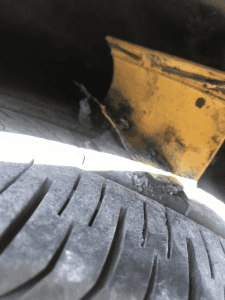 Highway reflector stuck in Kathleen Boone's flat tire, Sept 7 2017

View Photos
Update at 1:09 p.m.: "Really? Are you kidding?!" A Jamestown restaurant owner shares with Clarke Broadcasting the words she initially uttered this morning after finding a nail — attached to a yellow highway reflector – sticking out of her flat tire.
"Talk about the final nail in the coffin," laughs Kathleen Boone, co-owner of The Service Station, an eatery that recently opened at 18242 Main Street. She recounts her ride into work from Tuttletown was marred by the distinctive sound her tire made as it punctured while she crossed over Highway 49/108 from Rawhide Road.
Checking her vehicle after parking it she could not fail to notice the yellow highway marker, which literally flagged her attention to the protruding nail. She wryly adds, "I heard the statement from the Caltrans man on the radio [in Clarke Broadcasting's radio version of the earlier coverage] this morning about not using nails or tacks in their construction on 49/108." She also took two photos that she sent news@clarkebroadcasting.com. They certainly look to be evidence clinchers and are viewable in the image box slideshow.
Original Post at 11:58a.m.: Sonora, CA – After delving deeper into a local mystery we are now calling the Puzzle of the Punctured Tires Clarke Broadcasting approached Caltrans for answers.
It turns out – despite claims from Caltrans officials yesterday, as reported here, temporary road markers being used for an extensive repaving project are being secured to the roadway with metal parts, casting suspicions as to whether these pieces are directly linked to several complaints of flat tires that locals have reported getting while recently driving along Highway 49/108 between Jamestown and Sonora.
This morning, Clarke Broadcasting investigated part of the highly traveled stretch between Harvard Mine Road and the Highway 108 Stockton Road off-ramp to downtown Sonora. It is interspersed with numerous solid yellow and some white-colored temporary floppy markers striped with reflective strips. Upon closer observation it is easy to see not only are these rubbery pieces meant for interim use due to their flimsy design; they also appear to be challenging to keep fastened to the road.
This reporter located multiple markers along the side of the highway that had apparently broken away from where they had been anchored; one of which still had a nail and what appeared to be a metal washer jutting out of it. This was located in Jamestown between the entrances to the Kwik Serv gas station and Subway deli. Too, every floppy marker observed that was secured to the highway road surface along the observed stretch also contained metal parts. To view a slideshow of photos from the scene, click into the image box.
Caltrans District 10 spokesperson Rick Estrada spent no time trying to defend his prior explanation made yesterday that only an adhesive was being used by a contractor to attach the floppy markers.
Ruefully, he shares, "Upon further investigation Caltrans regrets to say that nails were being used to attach temporary reflectors to the highway…Caltrans' standard practice is to use only adhesive on these reflectors. We are continuing to gather information in this situation — and motorists who believe their vehicle suffered damage can file a claim with Caltrans."
On July 17 Caltrans had announced in a press release that Roseville-based Teichert Construction had been awarded the paving project. Estrada says at this point it is still uncertain if crews from that company or a subcontractor were involved with using nails and other metal parts to secure the reflectors.
Estrada adds. "There will be no additional paving until Sunday night, Sept. 10, and at that point only adhesive will be used on these reflectors – no longer will there be nails used on them."
To look into filing a claim with Caltrans and download a form, click here.