Highway 120 Work Continues, New Priest Grade Turnouts Complete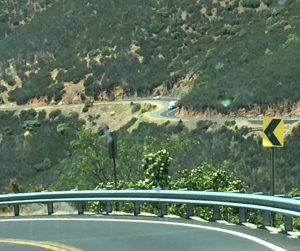 New Priest Grade from Old Priest Grade

View Photos
Sonora, CA — Caltrans is flagging improvements newly completed on Highway 120 — as well as a hot spot that will be creating hefty delays for motorists tomorrow.
First the bad news; Caltrans officials say travelers should anticipate 15 to 20-minute traffic stops on Highway 120 at Tulloch Dam Road Friday from 8 a.m. until 3 p.m. Since the eastbound lane will be closed for paving work the area will be under one-way traffic control.
On the bright side, Caltrans officials state that crews have completed constructing three vehicle turnouts on the Highway 120 New Priest Grade.
The $287,000 project was geared to relieve travel along the steep, curvy five-mile climb east of the Highway 49/120 junction, which is part of a heavily used gateway route to Yosemite National Park. Well-known for congestion exacerbated by slow-traveling commercial trucks, RVs and other vehicles hauling trailers, toys and gear it is marked with no-passing stripes.
The three new turnouts, located on the eastbound side, are described as 500 feet long and 15 feet wide; large enough so slow-moving vehicles can slide in to allow others to pass before returning to the roadway.