Tuolumne County Supes Concede To Pay Raises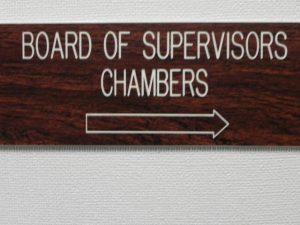 Tuolumne County Board of Supervisors Sign

View Photos
Sonora, CA – In a move that two Tuolumne County supervisors described as resisting the urge to keep kicking the can down the road the board voted 4-1 today to set raises for themselves in motion.
The topic was back on the agenda following County Administrator Craig Pedro's review at the Aug. 23 meeting of a evaluative response from the County Grand Jury – solicited through a supervisors' query last year – of the best method for adjusting board salaries in the future. A salary survey median study run in 2015 determined that the board pay came in at nearly 32 percent below the market.
The Grand Jury recommended that that the supervisors receive a pay raise equal to those negotiated with all county bargaining groups, which would establish a consistent and stable process. So, the board moved 3-1 at that point to take action towards implementing such an ordinance before the end of the year.
Pedro presented two ordinance options that would comply with the methodology and allow for the supervisors to be paid approximately 15 percent below the survey median determined back in December 2015. The first one provided for an immediate implementation of a pay increase with two more respectively occurring in July 2018 and 2019. In it, the board salaries would adjust from $39,814.14 per year to $47,973.12, tentatively effective Nov. 26; in July 2018 the salaries would increase to $50,426.48 per year and a year later edge up to $51,958.40.
The alternative, presented as Option B, was ultimately preferred and chosen by the board because it would create less of a fiscal impact to the county. It delays implementation of the raises until July 2018, when each supervisor's salary would rise to $50,426.48 per year; followed by another raise in July 2019 to $51,958.30.
While all of the supervisors indicated an aversion and sense of vulnerability and bad public optics over voting themselves a salary raise, District 3 Supervisor Evan Royce was the sole holdout in the final vote. Among the comments he made, he called himself a risk-taker and knucklehead for not even realizing when he first ran for the office that the position was a paid one. However, he quickly added, "I like it being a sacrifice — that I am underpaid and sacrificing something to be here. If it was just a job I would have quit a long time ago."
The rest of the board opined that their vote for the pay increase was to ensure that those running for and potentially holding the office in the years ahead would be able to afford to be there without having to be well-off retirees with pensions who were also collecting Social Security.
District 5 Supervisor Karl Rodefer maintained, "We were elected to make those hard votes and I know it will not resonate with some of the constituents but it is the responsible thing to do for the future of this county." He further shared that he was probably using up to a quarter of his salary to fund his related traveling and business expenses. District 2 Supervisor Randy Hanvelt stated it was not about the "old guys" but the next generation.
District 4 Supervisor John Gray echoed in kind, commenting, "We do this job because our hearts are in it…a lot of people out there have the hearts and that is not enough for them."
Board Chair and District 1 Supervisor Sherri Brennan noted that without her family financially behind her there was no way she could serve, adding that after extended conversations with her constituents she realized that they overwhelmingly supported the raise and realized the extended hours and energy put in by the board members to effectively do their jobs right.