Tuolumne County Resident Enjoys Writing Books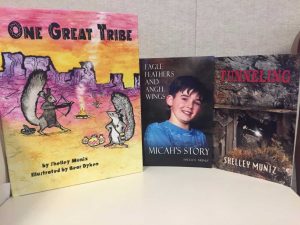 Books by Shelley Muniz

View Photos
Shelley Muniz has lived in Tuolumne County for nearly five decades and recently she has become a published book author.
Muniz was Wednesday's KVML "Newsmaker of the Day".
"I've actually been writing my entire life," said Muniz. "But a few years ago, I wanted to write a book about my son in order to help others."
In the summer of 1991, her twelve-year-old Micah was diagnosed with acute myelocytic leukemia. What followed was a battle waged not only in Micah's young body but also on fronts unimaginable.
The book called, 'Micah's Story: Eagle Feathers and Angel Wings' chronicles Micah's courage and the demolition of foundations her family believed were enduring: home, integrity, and the fulfillment of obligations. Muniz reveals what she feels is the vivid truth about the essential rights of the catastrophically ill, struggles with health care coverage and medical care.
This inspiring remembrance is the documentation of a family's love, their efforts to find answers for Micah, and a resolution to his pain even after his death.
The next two books by Muniz, both published earlier this year, are dramatically different than Micah's Story. And all three books are different from each other.
'Tunneling' is a young adult's fictitious mystery-adventure novel that takes place on the east side of the Sierra Nevada in Lone Pine, CA.
'One Great Tribe' is an illustrated children's story about the same squirrel family that became eventually separated by the Grand Canyon.
Muniz will be signing all three of her books at Schnoogs Cafe in East Sonora from 11 AM through 1 PM on Saturday September 16th. The three books will be available for purchase.
The books are also available at Mountain Bookstore in Sonora, Amazon.com and at shelleymuniz.com.
The "Newsmaker of the Day" is heard every weekday morning at 6:45, 7:45 and 8:45 on AM 1450 and FM 102.7 KVML.