Yosemite South Fork Fire Acreage Hike, Empire Fire Holds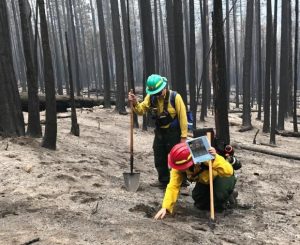 South Fork Fire burning in Yosemite

View Photos
Yosemite, CA – Two Yosemite blazes continue to burning up acreage but crews containment lines appear to be holding.
The flames of the South Fork fire, burning near Wawona, gobbled up an additional 1,700 acres bringing the total to 7,800 while the containment inched up from 44 to 47 percent. The north and east flanks saw the most fire activity, which is projected to continue as the steamy temperatures and dry conditions will plague firefighters, lingering into early next. Park Fire officials indicate that crews will continue to patrol and mop-up the flanks closest to the community of Wawona and Mariposa Grove, while other perimeters will be monitored by aircraft due to the steep terrain.  The cause of the fire is still under investigation.
Holding steady in terms of containment, the Empire Fire was ignited by lightning about a 3/4 mile south of Glacier Point Road and has been burning for a month. It is burning slowly and spread to another 100 acres reaching 4,250 acres with the containment holding at 55 percent. Crews conducted firing operations on Wednesday, which fire officials report were successful on the south flank. Thursday's strategy had crews holding and patrolling the south flank while continuing line construction around spot fires on the northeast flank near Ostrander trail. Fire crews are implementing a perimeter control strategy on three sides of the blaze to minimize smoke from heavy fuels. The east flank is being allowed to move towards the Illilouette basin to continue to enhance forest resiliency in a fire adapted ecosystem.
Road, trail and campground closures for both fires can be found in an earlier report by clicking here.