Voluntary Evacuations Implemented In Summit Complex Fire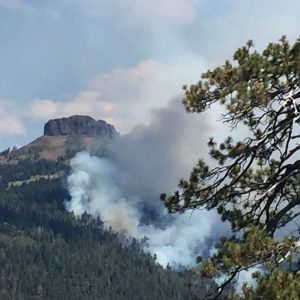 McCormick Fire burning in STF
Tuolumne County, CA — The Stanislaus National Forest has renamed the Douglas Complex Fire as the Summit Complex Fire, which has burned 1,152 acres.
The blaze consists of three nearby lightning caused fires named the Douglas, Willow and McCormick. It is the latter that has seen increased fire activity today and forced the voluntary evacuations, according to forest spokesperson Michelle Carbonaro. She explains, "The US Forest Service in conjunction with the Tuolumne County Sherriff's Department is currently alerting visitors to the area regarding the voluntary evacuation. It is for the safety of the firefighters and public in the area of Clark Fork Road." She adds that there are no homes in the area and this is just for forest facilities.
Here is the list of areas under the voluntary evacuation due to the McCormick Fire:
 Clark Fork Road and surrounding trail systems
Clark Fork Campground and horse camp
Sand Flat Campground
Camp Liahona
Camp Peaceful Pines
In addition, the Fence Creek Road location was closed yesterday.
Currently, there are 122 fire personnel working the Summit Complex Fire. Forest Service officials have been allowing it to burn out naturally where possible. The fires ignited on July 31st.