No Bail For San Andreas Man Charged With Three Felonies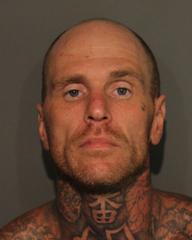 Dane Tonies CCSO Booking Photo

View Photos
San Andreas, CA — A San Andreas man is being held without bond after being picked up for felony parole violation and two felony charges relating to recent incidents.
According to Calaveras County Sheriff's spokesperson Sgt. Rachelle Whiting, deputies accompanied by a California Department of Corrections and Rehabilitation (CDCR) parole officer arrested 38-year-old Dane Tonies in the noon hour yesterday at a Berry Court residence for the parole violation as well as for assault with a deadly weapon and making criminal threats.
Sgt. Whiting reports that on Sunday a female victim came forward and reported to deputies that during a Saturday night disturbance call that deputies responded to at a Pope Street residence, she was threatened by Tonies while he was armed with a knife. At the time of the service call, she says deputies were told that he was involved and left prior to their arrival.
Coincidentally, a deputy conducted a traffic stop in Angels Camp several hours later on a vehicle driven by Tonies, who was subsequently arrested by the Angels Camp Police Department for driving under the influence and subsequently released.
Due to Tonies being on active parole, Sgt. Whiting says that CDCR was notified and assisted in locating and arresting him.