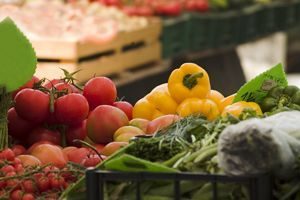 Vegetable stall on farmers market, shallow depth-of-field.

View Photos
Angels Camp, CA – As the temperatures rise and the weekend is forecasted to reach over 105 degrees this weekend, one area farmers market fears not only the produce could wilt but the customers as well.
This weekend's expected heat wave has forced the shut down of the Angels Camp Farmers Market at Utica Park in the city's downtown area off Main Street (Highway 49). Held Friday nights from 5 p.m. to dusk, the Angels Camp Business Association has announced that this Friday's (September 1st) market will be canceled due to the extreme temps. However, they ask patrons to stay cool through this inconvenience as the market will reopen on Friday, September 8th and continue on its schedule run through its final closure date of September 29.
At this time there have been no other Mother Lode farmers markets following Angels Camp's trend, but that could change as the mercury continues to rise throughout the week.
Click here for details on the farmers markets in the area and other events.