CHP, Sonora Police Respond To Crosswalk Safety Concerns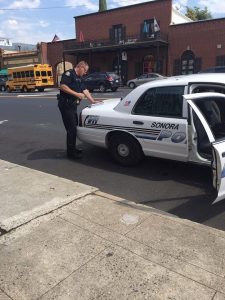 Sonora Police participate in crosswalk sting operation

View Photos
Sonora, CA — Local law officials are especially warning motorists against getting mindlessly lost behind the wheel in the coming days. Why? They are setting up crosswalk safety operations at busy intersections with the intent of catching offenders who do not yield to pedestrians.
Although the CHP Sonora Unit has been gearing up for September Pedestrian Safety Month for awhile, yesterday CHP officers and Sonora Police teamed up to run the first of at least three planned operations with Ground Zero locations in the midst of busy local crosswalks.
"The City of Sonora City Council and other people have voiced their concerns about pedestrians out there walking in front of traffic and vehicles not yielding…and that has been an ongoing issue," explains Sonora CHP Unit spokesperson Officer Faustino Pulido, who adds there have been numerous accidents on Washington Street involving pedestrians.
Yesterday's stings set up from 8 a.m. until 1:30 p.m. at two crosswalks on Washington Street, which is also Highway 49, and also on Greenley Road at Guzzi Lane. He reports, "We witnessed eight right-of-way violations and well as multiple other distracted driver violations such as texting or talking on a hand-held cell phone, who were also stopped and either given warnings or citations."
In all, Officer Pulido says 37 citations were issued along with eight warnings; one warrant arrest was also made for drug paraphernalia possession and driving with a suspended license.
A First Of Sorts For Local Traffic Enforcement 
Asked if he was surprised by the result, Pulido replies, "Honestly we did not know what to expect. This was the first time we have conducted an operation of this sort." The operation was designed, he confides, using a National Highway Traffic Safety Administration (NHTSA) manual, measuring out travel and sight distances using the assumptions that people would be traveling ten miles per-hour over the speed limit — and it would take them the normal two-second stopping response time.
It turned out in this case that most people were doing what they were supposed to be doing — except for the eight drivers who failed to see an officer planted in the middle of the crosswalk wearing a bright yellowish-green shirt. They are not likely to forget the lesson as failing to yield to a pedestrian in a crosswalk is VC 21950 (a) carries a base fine of $238, although drivers with points already on their records could pay more.
As Officer Pulido indicates, two more operations are coming soon — slated for Sept. 8 and 18 at other currently undisclosed busy crosswalks.
As we reported here, the CHP has also recently been on the alert for motorists who fail to stop for school buses with activated flashing red lights, even to the point of doing a few ride-a-longs last week on some routes while watching for offenders, confides Officer Pulido. "Fortunately, we did not see any," he says. Drivers who fail to yield in these instances will wind up with the most expensive moving traffic infraction as it comes with a $664 fine.