Dome, Wildcat Ranch Advisory Committee Making Progress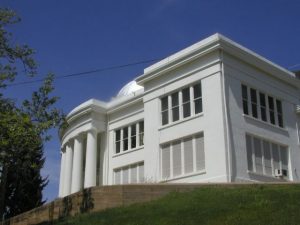 Sonora Dome

View Photos
Sonora, CA — A committee tasked with helping figure out how best to deal with Sonora Union High School District's Dome and Wildcat Ranch properties meets again tonight.
Of the gathering and progress to-date, District Superintendent Pat Chabot shares, "We have had four meetings so far and…will have possibly one more – and we have had some very, very interesting conversations between the committee and public."
As earlier reported here, the advisory committee was assembled back in late June to study through the summer the feasibility of both properties, which both retain current district and/or student resources, and deliver a non-binding recommendation to the trustees as to whether one or both might be declared "surplus." Such a designation would clear the way for the district board to lease or sell them.
Chabot reiterates, "Our District cannot afford to do maintainence on the Dome. We can't put students in there. It is not earthquake safe. It is not ADA-accessible." He adds that, should the district retain ownership, any renovations or improvements would have to be compliant with the Division of the State Architect (DSA), which is a much more expensive route than one that could be worked to meet local governmental codes.
Pondering Future Possibilities
At this point, he says perhaps the Art Council or Historical Society may be better future stewards should they be able to take the property under their wings. Tonight's meeting and the related process, Chabot points out, present a prime opportunity for the community to advise the board what they feel is best. "Whatever is done we want it be to compatible with the educational facilities that remain part of those properties," he notes. In the case of the historic Dome building and surrounding land there are alternative campus buildings and athletic fields as well as buildings being rented by the Art Council.
The committee has not been informed of the Dome's potential current market value because no one knows, according to Chabot. "An assessment…costs a lot of money and before we would we want to have someone who might be interested…and the District would allow them to pay for the assessment." Too, he adds, "It is kind of a 'beauty is in the eye of the beholder' [situation]. There are no other comparable properties for the Dome nearby at all. Real estate agents have told me that they have no idea what the value would be. Anyway, it depends on who wants it and what they would do with it – there are so many factors involved."
As for discussions underway of how to better utilize the Wildcat Ranch property, Chabot reports that the private-public Park Foundation organization has expressed interest in developing part of it as a park. The group is also in talks with the city and developers of the Peaceful Oaks Estates residential project over plans to create community recreational resources across a 50-acre tract of open public space, as reported here.
Tonight, Chabot shares that representatives from a group called Project Feed Our Kids will pitch a plan to provide after school and vocational education for high school and elementary school students on part of the ranch property. "We are open to ideas," he patiently enthuses. The meeting, which is open to the public, starts at 7 p.m. in the District's conference room behind the auditorium.