Proposed Park Near Standard To Seek Best Of Both Worlds?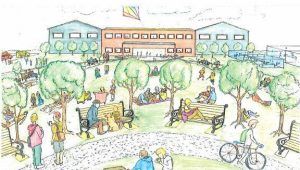 The Park Foundation -- artist rendering of the conceptual park

View Photos
Sonora, CA – Will tennis courts trump soccer fields in plans for a new park under much discussion at the corner of Standard and Tuolumne roads?
Not if things go the way the Tuolumne County Board of Supervisors signaled in its Tuesday meeting. In a unanimous decision the board directed staff to incorporate its own with other community-led efforts already in place. The potential development in question is a 50-acre parcel of open space that is part of the tentatively approved map for the long-proposed Peaceful Oak Estates development project.
Board Chair Karl Rodefer further moved to have staff establish an efficiently sized working committee, involving representative stakeholders as well as Supervisors Evan Royce and John Gray, to ensure a thoughtful and thorough collaboration.
Colorful Plans Detailed 
During an 11 a.m. appointment principals behind volunteer-led by The Park Foundation provided the board and an audience of about a dozen members of the attending public with an impressive presentation detailing its vision for the parcel, illustrated with artist's renderings and even a site plan sketch.
Back in May the group, which has been meeting for about two years, completed the process of forming a 501 (c) (3) nonprofit organization for the purpose of fundraising necessary monies, once the land is secured. Earlier this year members also initiated contact with Sierra Pacific Industries (SPI), the landowner and developer. It projected that, through its planning and auspices, initial park facilities might be completed as soon as 2019.
However, back in August, as previously reported here, county staff sought the supervisors' approval to apply to the state for a million-dollar youth soccer and recreation development program grant that would enable the park's development. It was given approval to proceed with and held community meetings for input.
A Sore Lack Of Soccer Space 
Staff also hired a contractor, Siegfried Engineering, to help develop a park master plan. The need for more soccer fields to augment soccer programs that involve over a thousand participants squeezing into the insufficient facilities at Standard Park is an established one broadly expressed further in Tuesday's public comments session.
The Park Foundation's outlined proposed Phase I development plans for the 50-acre parcel, estimated at $7.5 million, also highlighted fundraising strategies and support backing.
Among the Phase I facilities under its proposal are a stadium with a theatre, educational rooms and offices; a clubhouse with a gas fireplace-outfitted patio; multi-sport indoor hall; extensive tennis facilities; courts for pickle ball, beach volleyball, bocce; a nine-hole Frisbee golf course; picnic areas and paths with benches as well as parking slips for food and beverage trucks.
Future Planned Hopes For The Park
The foundation further detailed the creation of programs and events in its proposed Phase II development and a Phase III assessment and addition of more sports, arts, recreation or community facilities, to be determined. Along with a desire to focus on providing sorely lacking all ages tennis facilities, foundation supporters expressed a desire to provide amenities that would appeal to and serve a broad public from youth to seniors.
As soccer fields were listed among the Phase III possibilities and not under the Phase I amenities, it is fair to say that much tweaking may be necessary for the finally approved project to net the approval of all the involved stakeholders.
In the end, Ron Jacobs, The Park Foundation founder/president got what he requested at the onset of the presentation; a way forward for staff to work with his group and SPI to draft an agreement on how best to utilize the land and develop the park.
He noted, "That does not mean that we have a piece of paper and we say that 'that is going there, and that is going there'. I think there are a lot of questions that have to be analyzed. But for us it is really important to have your support so that we can continue to go forward with our efforts of what we have been doing over the past two years."