Church Goer Assist In Sonora Drug Bust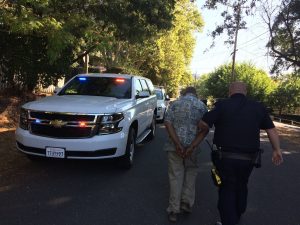 DUI Arrest outside Sonora Churh

View Photos
Sonora, CA — Two men head to jail following a drug bust in Sonora outside a church.
The Sonora Police Department received a call on Thursday morning that a man suspected of being under the influence of drugs was behind the wheel of a Toyota van which was about to leave the St. Patrick's Catholic Church parking lot near Jackson Street in Sonora.
Officers spotted the van traveling west on Jackson Street and pulled it over. The driver, 64-year-old David Brown of Sonora, was determined to be under the influence of drugs and was arrested for DUI. A records check showed that his passenger, 50-year-old Benjamin Tarango of Columbia had three outstanding warrants for his arrest. A search also found that he had about a gram of methamphetamine on him. Tarango was also taken into custody and charged with drugs along with his existing warrants.  Both men were transported and booked into the Tuolumne County Jail.