Sonora To Hold More Talks About Increasing Revenues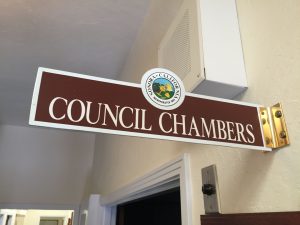 Sonora City Council Chambers

View Photos
Sonora, CA — The Sonora Finance Committee has scheduled a special meeting on Tuesday to further discuss potentially selling excess property and implementing a user utility tax.
It is part of a Fiscal Sustainability Plan being developed by the city. At a meeting on July 14 the city's finance committee directed staff to look into the possibility of selling the Von Eichel property located near the intersection of Highway 108 and Highway 49. The 24 acres were donated to the city in the 1990's. A developer had earlier proposed using the land for a private hotel or resort. Staff has developed a proposal to solicit interest from outside interests that may want to either purchase the property or create a public-private partnership. The Tuolumne County Economic Development Authority would help spread the word to interested parties.
The committee will also review a potential user utility tax that could be paid by electricity, cable and water users in the city. A 1-percent utility fee on PG&E services would bring around $89,000 annually and a 1-percent fee on cable television would bring $14,000 annually. Meeting documents note that the Tuolumne Utilities District is still working to gather gross receipts so that the city can tabulate how much revenue could be collected from water and sewer users.
The finance committee will simply review the matters and make recommendations for the city council. The finance committee meeting will be Tuesday at 1pm at Sonora City Hall. It is open to the public.