Calaveras Jumping Frog Jubilee Highlights To Air On ESPN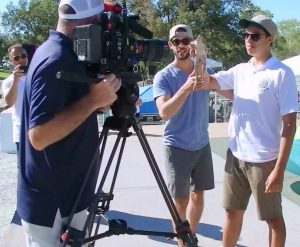 ESPN crew and producer Brian Rivera interview 2017 winning Frog Jump jockey Justin Fasano and Kermit

View Photos
Angels Camp, CA — The fine amphibians and jockeys of the Mother Lode's famous Frog Jump will be getting some national facetime over a few upcoming "dog days" of summer.
According to Calaveras County Fair and Jumping Frog Jubilee CEO Laurie Giannini, the word came from ESPN that a feature filmed this year during the 89th running, so to speak, of the celebrated official Frog Jump will be airing a total of six times in the coming days.
She says the segment will run this Sunday (Aug. 13) on ESPN at 7 and 11 a.m. local time; also on ESPN2 at 7 a.m. and 8 p.m. For those who miss seeing or recording the segment, it will also air Wednesday (Aug. 16) on ESPN2 at 12 a.m. and 8 p.m. The sports cable channel's E:60 producers are currently sharing a promo via its social media channels that may be viewed by clicking here.
"[They] filmed other aspects of the Fair but focused on the Frog Jump," Giannini shares. "We have not seen any of the footage yet either, so we will be surprised too [as it airs]." As reported here, the top overall Frog Jump Winner was 19-year-old Justin Fasano of San Jose, jockeying a frog named Kermit to a jump of 18 feet, four inches at the finals on May 21.
Hardly The First National TV Rodeo For The Jump
Giannini points to more than a few occasions when the Frog Jump has managed to wind up on national television; among these on The Discovery Channel and History Channel.
"We have had several features or ideas for stories or shows pitched almost annually and they do not always come to be," she confides. "Sometimes they are with channels or someone with a reality television show to pitch." Admitting to being leery of the latter opportunities, she states, "Our event is quirky — but we want it to be respected. When ESPN called, we said, 'yes – this is something we want to do'."
Chuckling, Giannini recalls, "Last year, a Japanese reality show filmed…I have seen the footage and what is really interesting about that is that our Frog Jump Committee [members] are dubbed in Japanese!"
The segment is not available on the fair's website because officials have not been able to secure the rights to post it. However, Bob Lema, who served as the official liaison to that film crew served in a similar capacity for the fair's ESPN guests. Helping enable both crews' 24/7 all-access to the fair while they filmed, he wound up making cameo appearances in each production; this time around speaking his own undubbed English.
Continuing Forward Leaps Towards The Future
"I am really appreciative…to the Frog Jump Committee, who meet all year long…they really take this quirky little event that has put us on the map seriously…and they keep it alive," Giannini notes gratefully. She adds, "The Calaveras County Fair itself is one of the longest running event in the State of California and the Frog Jump has been part of it since the '30s." Through welcoming new volunteers and trying to involve the next generation, she says the committee is able to help the tradition continue making successful leaps forward.
While locals' chests swell with pride at the opportunity to see the Mother Lode receive national notice, Giannini hopes that they will appreciate the Frog Jump as more than just an annual event.
"It is an economic engine…that has been part of our county since 1928…it is our icon and so whenever we get a chance to celebrate that…when somebody is going to see this and want to visit Angels Camp – and it might not even be for the Fair – they might come and want to see our wonderful museums…caves…wineries," she enthuses. "So — anything we can do to help promote Calaveras County through the frogs — is a great opportunity for us."