McClintock: Abundance Of Water Or Shortage Of Water?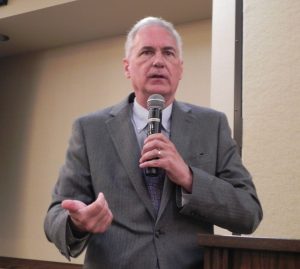 Congressman Tom McClintock

View Photos
Congressman Tom McClintock recently made remarks on the House Floor in support of H.R. 23, the GROW Act, by Congressman David Valadao.
McClintock was Thursday's KVML "Newsmaker of the Day". Here are his words:
"Mr. Speaker:
In California, five years of historic drought caused billions of dollars of damage to our economy, destroyed tens of thousands of jobs and brought many communities within just months of literally running out of water – all because we couldn't store water from the wet years to assure plenty in the drought years.
Then, back to back with this historic drought, we have just had one of the wettest winters on record. Massive torrents of water have threatened entire communities on its way to be wasted in the Pacific Ocean – all because of the very same problem: we have few reservoirs to store this superabundance of water for the next drought.
Even before the drought, massive water diversions required by a growing tangle of laws and regulations had created devastating economic hardship in California's fertile Central Valley. Those same policies forced us to release what precious little water we had remaining behind our dams to adjust river temperatures for fish.
For three Congresses, the House has acted to fix this folly. Today, H.R. 23, or GROW Act, by Congressman David Valadao, addresses the policy, regulatory and administrative failures that have mismanaged our water supplies across the west. The GROW act includes both short term and long term provisions aimed at restoring water reliability and certainty to cities and farms. It includes seven titles that expand water storage, improve infrastructure, protect water rights and create more abundant and reliable water resources to benefit both communities and the environment. The GROW Act gives federal agencies the tools they need to help safeguard communities from the hardship of future droughts.
It codifies the historic Bay-Delta Accord that provided an equitable balance between human and environmental needs and guaranteed the reliability and predictability of our water supplies.
It strengthens Northern California area-of-origin water rights and prevents the federal government from demanding that people give up their water rights in order to operate on federal land.
It streamlines the endlessly time consuming and cost-prohibitive environmental permitting that is blocking new reservoir construction — by coordinating federal agencies and requiring transparency of the science behind its decisions.
It requires completion of studies for five new reservoirs that have dragged on for decades.
In the past, we've heard three objections from opponents.
The first is that it will decimate Salmon fisheries. On the contrary, it saves those fisheries, where the environmental policies of the past forty years have utterly failed to protect them. The GROW act targets the non-native predators that are responsible for 90 percent of salmon losses as the smolts make their way to the ocean. It encourages the use of fish hatcheries to assure that salmon populations will increase dramatically in future years.
The second objection is that it will pre-empt state water rights laws. Read section 302 of the bill: "The Secretary of the Interior is directed, in operation of the Central Valley Project, to adhere to California's water rights laws governing water rights priorities…" It goes on to say that diversions "shall not be undertaken in a manner that alters the water rights priorities established by California law."
It does include provisions to codify the Bay Delta Accord and modify the disastrous San Joaquin River Settlement. But this does not set a precedent for other states. California is unique among the states in the fact it operates with a coordinate operating agreement that combines the federal Central Valley Project and the California State Water Project and runs them as a unified system. This was done at California's request and with its consent.
The third objection is that it rewards powerful agricultural interests at the expense of consumers. This is nonsense. An average consumer uses roughly 100 gallons a day to wash the dishes, water the lawn, and everything else we do in our daily lives. But when you purchase a cheeseburger, you have just consumed 750 gallons of water – because that's what it takes to grow the ingredients in that cheeseburger. Buy a pair of jeans – you've just used 1,800 gallons of water. The fact is, all of this water benefits consumers and the tens of thousands of farm workers and others who provide for their families from this water.
Droughts are nature's fault. Water shortages are our fault. They are a choice we made a generation ago when we chose to neglect our infrastructure and mismanage our water resources. It has led to increasingly severe water shortages, spiraling utility and grocery bills, and economic stagnation. The GROW Act choses a brighter future of abundance and prosperity that can begin with our vote today.
Abundance or shortage. That is the question. I thank Mr. Valadao for his work on this issue and for putting that choice so clearly to the House today.
We can choose to continue down the nihilistic road we're on. That means increasingly severe government-induced shortages, higher and higher water and grocery prices, and a permanently declining quality of life for our children, who will be required to stretch and ration every drop of water in their bleak and parched homes.
With this bill, we choose a different future. Abundance.
We choose a future in which water flows again to the fertile fields of the Central Valley, providing full employment to families and affordable groceries from America's agricultural cornucopia. It is a future in which families need not watch their gardens shrivel and die and towns and cities need not fear mandatory water rationing and uncertain and unpredictable supplies. It is a future in which long-established water rights are safe and secure from the whims of politicians and bureaucrats.
We chose a future in which thriving populations of young salmon can swim to the sea unmolested by the non-native predators that now kill 90 percent of them before they can reach the ocean; a future in which new fish hatcheries assure the release of millions of additional salmon to supply a revived and rapidly expanding commercial fishing industry.
We chose a future in which great new reservoirs can store vast amounts of water in wet years to assure abundance in dry ones; a future in which families can enjoy the prosperity that abundant water and hydro-electricity and affordable groceries provide, and the quality of life that comes from that prosperity.
Abundance or shortage: that is the question. We choose abundance.