City Of Sonora Looks At Ways To Increase Revenue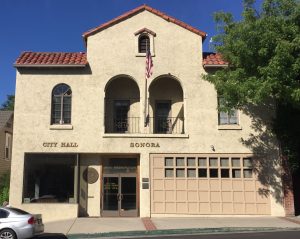 Sonora City Hall

View Photos
Sonora, CA — With tight fiscal year budgets anticipated in the coming years, the City of Sonora's Finance Committee began reviewing theoretical ideas like selling excess properties and increasing taxes.
As part of the development of a Fiscal Sustainability Plan, the city is looking into those items, as well as potentially reducing services.
Speaking about a committee meeting held yesterday, Sonora City Administrator Tim Miller says, "There was a number of options discussed with the finance committee, and two or three of which warrant further study. They include looking at an additional sales tax measure, a parcel tax may be considered, or a utilities user tax."
Finance committee meeting documents note that a sales tax increase of a quarter of a cent ($0.25) would generate approximately $850,000 of additional annual revenue. Increasing the sales tax for general purposes requires just a majority vote of city residents, while increasing it for a specific purpose, like police or fire, requires a 2/3 vote of residents.
A theoretical $150 parcel tax would generate around $330,000 annually, and would require a 2/3 vote of residents.
Miller notes that the city will also further review the possibility of selling 24 acres of property donated to the city in the 1990's, once proposed as a private hotel or resort, situated near the intersection of Highway 108 and Stockton Road. If sold, it could provide a one-time revenue boost for the city's coffers.