Oakdale Men Caught With Stolen Vehicle In Jamestown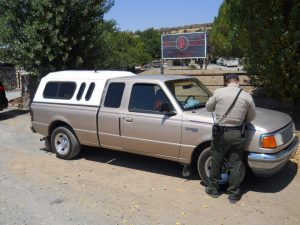 Stolen Truck Recovered In Jamestown

View Photos
Jamestown, CA — Two Oakdale residents, who told deputies they were in the area looking for a local casino after going fishing, were arrested when their truck ran out of gas.
A Jamestown rancher reported that two men had parked a gold Ford Ranger at the entrance to his property. One of the men jumped over a fence and was wandering on the ranch. The rancher reported that both men became belligerent when he asked them to leave.
Tuolumne County Sheriff's deputies responded and spoke to the men, identified as 48-year-old Jamie Theiler and 54-year-old Grant Dale, both of Oakdale. They said they had been fishing,  and later decided to head to a local casino, but ran out of gasoline. Deputies noticed the ignition to the truck was damaged, and a records check showed that it was stolen out of Oakdale. Both men were arrested for possessing the stolen truck, and Theiler was also cited for possession of methamphetamine.