Berryhill Speaks About Cap-And-Trade And Suspension Of Fire Fee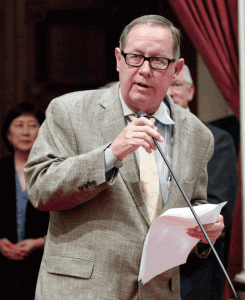 Senator Tom Berryhill

View Photos
Sacramento, CA — Mother Lode District 8 Senator and Republican Tom Berryhill speaks out on why he voted to extended the cap-and-trade program, AB398, for another decade.
Berryhill says, "Do I like cap-and-trade?  Of course not.  But I do see it as a more reasonable way to ensure my folks had cleaner air without driving small businesses and jobs out of California." Berryhill also supported the legislation as it will end the six year fire fee which Berryhill calls an "illegal fire tax." Berryhill states he will be introducing a bill next year that will seek "a refund for everyone who has ever been forced to pay the unfair fire tax." In addition the cap-and-trade legislation also limits the gas tax, Berryhill says, "if this cap-and-trade deal hadn't passed, our gas prices would have gone up by way more than a dollar a gallon."
As reported here, a majority of Democrats in the Senate and Assembly were in favor of the cap-and-trade bills. Seven republicans sided with democrats in the Assembly while all Republican State Senators except Berryhill were opposed. Berryhill defends his vote saying "The reality is that the aggressive cap on emissions was already law – a law passed over my strong objections." He further asserts "I did everything I could to a give rural folks a voice in a Legislature dominated by urban representatives."
Senator Berryhill's full statement is in his blog "Rural CA's Seat At The Table Kills Fire Tax" here.
Governor Brown has hailed cap-and-trade as a key part of the state's efforts to reduce carbon emissions, and has encouraged other states to use it has a model. The bill has been available for the Governor to sign since July 18 when he issued the State of Emergency for Mariposa county.