Update: Chinese Camp Vegetation Fire Contained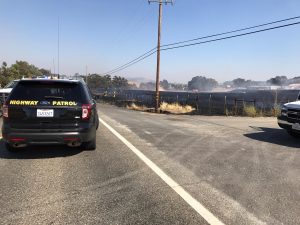 Highway 120 and Sims Road vegetation Fire

View Photos
Update at 4:14 p.m.: CAL Fire reports that the fire near Chinese Camp, as reported below, has been contained at or around five acres and no structures were damaged.
All air and incoming resources have been cancelled. The cause is currently being assessed by investigators on-scene.
Update at 4:03 p.m.: According to CAL Fire spokesperson Lindy Shoff, resources arriving on-scene of a vegetation fire in Chinese Camp estimate it as about five acres in size and moving in an easterly direction.
Shoff says at this time it appears that one structure is being threatened but good progress is being made. She adds that the fire center is located in the 9000 block of Highway 120 and 13000 block of Sims Road.
Original Post at 3:58 p.m.: Chinese Camp, CA — Columbia air and multiple ground resources are heading to a reported vegetation fire in the area of Highway 120 near Sims Road in Chinese Camp.
Sims Road is located between Chinese Camp Elementary and the Sierra Pacific Industries yard. There is no word on whether any structures are threatened. Motorists along Highway 120 through the Chinese Camp and Montezuma Junction area should exercise extra caution. We will provide more details as they come into the news center.