Chief Updates Pet Bath House Missing/Dead Dogs Case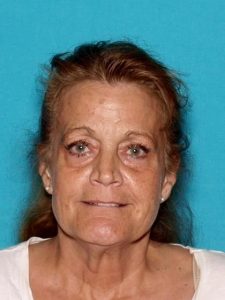 Patti Guy, wanted for questioning by the ACPD in Pet Bath House missing'presumed dead canines' case.

View Photos
Angels Camp, CA — A woman being sought in connection with the presumed deaths of three dogs while under the care of the Pet Bath House, a Main Street Angels Camp pet care and boarding facility, turned herself in this morning.
According to Angels Camp Police Chief Todd Fordahl, local resident Patti Guy arrived just after 9 a.m. in the police department lobby. He adds that, following what he described at the time as a second interview with her and additional investigative leads that came as a result, the decision was made not to arrest her then. However, until the investigation is complete and the status of the three missing pit bulls is confirmed, the chief maintains that Guy will remain a suspect.
Pet Bath House co-owner Vonna White is currently charged with a number of related felonies in the case. As we previously reported here, the dogs' owner, a displaced Butte Fire survivor, maintains that she told him — after two alleged dog fights and a purported attack by the dogs on her during the short time they were at her kennel — she had them "put down." The dogs had previously spent several months at a Valley Springs facility with no incident, according to Chief Fordahl.