Calaveras County Native To Head Probation Office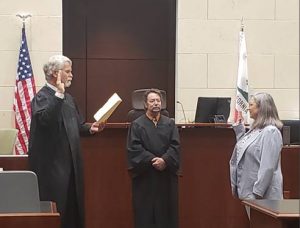 Swearing in of Kim Craddock as the new Chief Officer for Calaveras County

View Photo
San Andreas, CA – Already serving in the role of interim Calaveras County Chief Probation Officer, the county supervisors made it a permanent position for a county native.
On May 18th, Kim Craddock became the Chief Probation Officer for Calaveras. She is a lifelong resident of the county, having attended Railroad Flat Elementary School and graduating from Calaveras High School. She received her bachelor's degree in cultural anthropology from California State University, Stanislaus.
Craddock has over 25 years of experience in probation, including as a juvenile probation officer, adult court officer, report writer, and field services supervising offenders, including sex offenders. She was promoted to Assistant Chief Probation Officer in 2014 and has served as the Regional Chair of the California Association of Probation Services Administrators. She served as Acting Chief Probation Officer for four months, from January 2, 2021, to April 23, 2021, during the COVID epidemic, and was appointed Interim Chief Probation Officer on December 16, 2022.
"Calaveras County is fortunate to have someone with Ms. Craddock's experience level and knowledge of the community to fulfill the role of Chief Probation Officer," noted the CAO's office.