Smoke And Helicopters Over New Hogan Reservoir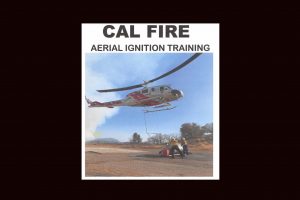 Cal Fire Aerial Ignition Training

View Photo
San Andreas, CA – Cal Fire is asking the public not to report smoke and helicopter activity over New Hogan Reservoir as it is a training exercise.
Crews are conducting helicopter aerial ignition operations and hazardous fuels reduction in the vicinity of the New Hogan Vegetation Management Program (VMP) site within the community of Rancho Calaveras in Calaveras County today and Wednesday (May 24). The training exercise will be conducted near Silver Rapids and Hogan Dam roads, south of Highway 26.
The exercise will run both days from 8 a.m. to 5 p.m., with the most smoke created during the CAL Fire Hawk and Super Huey training. They will be using live fire during the hours of 10 a.m. and 3 p.m. each day. The communities of Rancho Calaveras, La Contenta and Valley Springs will see the most smoke, as crews will be burning approximately 50 acres each day.
Calaveras Consolidated Firefighters are partnering with CAL Fire for the training.