Supervisors Endorse Timeline For New Tuolumne County Jail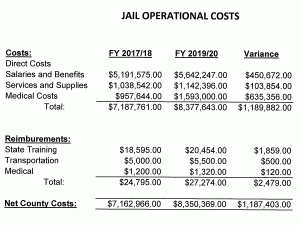 Jail Operating Costs

View Photos
Sonora, CA — The Tuolumne County Board of Supervisors endorsed a tentative timeline for awarding a contract and beginning construction on the future jail project off Old Wards Ferry Road.
The county plans to begin requesting contractor bids next month with a contract then awarded in November. A state review of the bids is also required between the three month window. As the current jail is outdated and dilapidated, Deputy County Administrator Maureen Frank noted it will cost less to keep individual inmates at the new facility. She stated, "Currently, the daily cost per inmate is $135, and for the new jail, it is projected to be $101."
However, the overall costs for the county will be increasing, as the new jail will have a capacity to hold around 230 inmates, while the current jail only holds 147.
Frank added, "The overall operational costs are anticipated to increase by at least $1,187,000 during the first fiscal year it is open in 2019-2020.
Costs will increase from the current $7.1-million to $8.3-million.
District Three Supervisor Evan Royce requested that sufficient time be available for the board to review the bid documents to reduce the risk of unforeseen surprises occurring for the county during construction. Board Chair Sherri Brennan moved to appoint supervisors Royce and Karl Rodefer to an ad-hoc committee related to the matter.
District Two Supervisor Randy Hanvelt added, "One of the things that I think we need to tell the pubic is that this is not the final commitment we make for the jail. This is just telling us (county) to move forward with the schedule. A lot has to be done between the time the shovel goes into the ground. But, I do want to emphasize the importance that we need the jail. The 'catch and release' program I don't like, but what I like even less is the conditions which our deputies have to live with at the (current) jail."
The county supervisors voted 5-0 to move forward with the tentative timeline for the project.
The county received $33-million in state grant money for the estimated $39-million project.