CA Attorney General: Hate Crimes Increased Last Year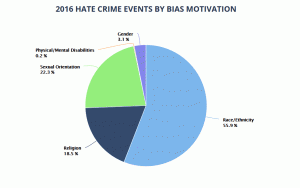 CA Hate Crimes In 2016

View Photos
Sacramento, CA — California Attorney General Attorney Xavier Becerra says the number of identified hate crimes increased by 11.2 percent last year, but it is still notably lower than the number reported a decade ago.
There were 931 documented hate crimes in California in 2016, compared to 837 in 2015. Hate crimes with a racial bias are the most common, accounting for around 56-percent, followed by hate crimes with a sexual orientation bias at 22.3-percent and those with a religious bias at 18.5-percent.
Becerra states, "When someone commits a crime motivated by hate, it is not just an attack on one innocent person, but an attack on the entire State and our communities."
While the year-to-year increase last year is concerning, there has been a notable decline in these types of offenses over the past decade. In 2007 there were 1,426 hate crimes reported in the state, and in comparison, the 2016 figure (931) represents a 34.7-percent decline.