Snowpack Still 318% Of Average In Sierra Nevada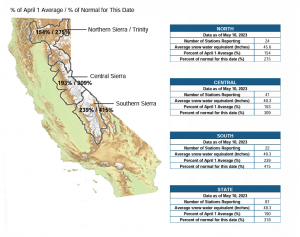 CA Sierra Nevada Snowpack

View Photo
Tuolumne County, CA — There is still a lot of snow to melt across the Sierra Nevada over the coming months.
California Department of Water Resources electronic sensors note that the Sierra Nevada snowpack is still at 318% of the historical average for the date.
Breaking down the numbers further, the Central Sierra, which includes Tuolumne and Calaveras counties, is 309%, the Southern Sierra is 415% and the Northern Sierra is 273%.
For the Central Sierra, the Snow Water Equivalent is 49.3 inches. It is the number that water managers use because it is the depth of water that would cover the ground if the snowpack was in a liquid state. It helps estimate how much of the snowmelt will enter waterways.
State officials will monitor for the potential of flooding over the coming months, notably in the Central Valley. The Tulare basin is of significant concern, according to DWR.
Temperatures will be warming up again this weekend.
New Melones Reservoir is currently at 66% of capacity and 106% of the historical average. Don Pedro is at 73% of capacity and 94% of the historical average.