California Democrats Vow To Fight GOP Health Care Plan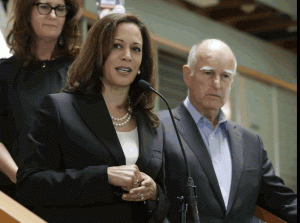 Senator Kamala

View Photos
Washington, DC — Governor Jerry Brown, and senators Dianne Feinstein and Kamala Harris, held a joint telephone press conference with reporters this morning detailing their opposition to the American Health Care Act.
The trio made a last minute push in hopes of defeating the Republican plan.
California's Senior Senator, Feinstein, opened by claiming that it is the "most indefensible bill" she has seen in her 24 years in the Senate. She detailed some of the findings of a recently released Congressional Budget Office report. Feinstein stated that 22 million US residents would lose health care by the year 2026, and 3-4 million in California. She added that an estimated 1.6 million would lose insurance next year. The hardest hit would be residents with Medicaid or those enrolled through Covered California, the state's insurance exchange.
Feinstein also stated that the average premium on the individual market would increase by an estimated $619 next year, according to the CBO report.
Governor Jerry Brown chimed in by adding, "This country should be united, but this bill will be the most divisive maneuver, cutting right into the heart of what is already a divided nation."
Senator Harris added, "This bill is nothing short of a disaster. They have nothing to be proud of, and the reality is that it is as bad, and in some cases worse, than the House bill, that (President) Trump called 'mean.'"
Republicans are arguing that the Affordable Care Act is crumbling and needs to be repealed and replaced. Democrats would rather see the existing affordable care act tweaked and improved.
Senate Republican Majority Leader Mitch McConnell, who has been working to secure enough votes to pass the American Health Care Act, has released a statement, arguing that the GOP plan will result in "better care."
McConnell states, "Better Care will help stabilize insurance markets that are collapsing under Obamacare, by first implementing stabilization policies then carefully transitioning away from Obamacare completely, so more families aren't harmed by its collapsing markets. And as one major insurer observed today, this bill 'will markedly improve the stability of the individual market and moderate premium increases."
It will also eliminate some mandates, such as a requirement to purchase health insurance.
*News trickled out late this morning, around the time of the press conference with the California lawmakers, that Senator McConnell will postpone a vote on healthcare until after the July 4th recess.