Badge Of Sheriff Who Arrested 'Black Bart' To Be On Permanent Display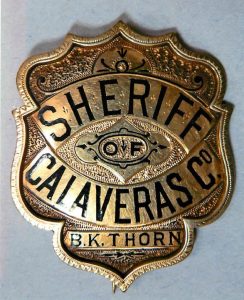 Calaveras County Sheriff BK Thorn Badge

View Photos
San Andreas, CA — A piece of Gold Rush Days law enforcement history may soon be pulled from a safety deposit box and placed on proud display.
Among the many items on the Calaveras County supervisors regular agenda Tuesday is to adopt a resolution to permanently relocate the county-owned badge of Sheriff Benjamin Kent Thorn from its holding box in the Treasurer and Tax Collectors office into a colorful collection of artifacts located at the Sheriff's Office.
According to Calaveras Sheriff Rick DiBasilio, the request's sponsor, Sheriff Thorn deserves to have the badge that he wore while defending and shaping this county in the same building with the men and women who have defended it since.
Sheriff For Nearly Four Decades
Initially appointed to a deputy's post in 1855 by then Sheriff Charles A. Clarke, Benjamin Kent Thorn was himself elected Sheriff of Calaveras in 1868 and held this position through the turn of the century, making him the longest serving sheriff in county history. Historical accounts indicate that throughout his career  Sheriff Thorn was involved in the apprehension many of the region's most violent as well as notorious criminals who flocked there in search of "easy money"; notably among these was Charles E. Boles, aka "Black Bart." Regarded as one of the top law enforcement officers in the nation, the Los Angeles Times described him in one 1899 story as "the last of the race of professional sheriffs in California."
Sheriff DiBasilio indicates that the new, state-of-the-art Sheriff's Office complex, a major upgrade from previous offices, includes a secure area that houses department memorabilia for personnel and escorted citizens to view in tribute to those who have served. Among the items are old Calaveras wanted posters, constable badges, patches, the badge and gun of Sheriff Joseph Zwinge, who, elected in 1922, served 28 years; also the badge of early 1950s Sheriff Harry James.
After recently learning about and hearing confirmation from Treasurer and Tax Collector Barbara Sullivan that Thorn's badge was in her office's possession, sheriff's officials found that it would take a formal supervisors' approval to relocate it. In making it, DiBasilio and his staff emphasize the request is not to claim ownership, which belongs to the county, but to provide a fitting place where Sheriff Thorn's service may be physically reflected 24/7 —  under constant appreciation by the flow of sworn personnel who move through, watch over and protect the office.