Hot Temps Bring Chilly Waters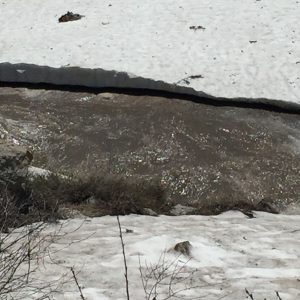 Highway 108 Sonora Pass snow and fast river

View Photos
Sonora, CA — Many will be heading to the Mother Lode waterways for a weekend of fun and to cool off, but Tuolumne County Sheriff's officials have a serious warning.
Although the temperatures are sizzling, waterways are frigid due to the snow melt runoff and extreme caution is necessary near streams, creeks and rivers. It is a safety measure many take when swimming or boating and sheriff's officials strongly suggest its use with the high and fast moving water flows as Sgt. Andrea Benson explains, "We ask that anyone that is going to be near any kind of water to please wear a life jacket or vest when venturing out.  Anything can happen. If you slip you can fall in and that becomes a very dangerous situation and you're not prepared for that. That's why we always want people to have a life vest and be aware of their surroundings. It is very beautiful, but at the same time it can be very dangerous."
The National Weather Service has also advised that the Sierra Nevada waterways are running very cold and fast, increasing the risk for hypothermia and the probability for water rescues. It notes that hypothermia can begin within 15 minutes of hitting the water.