Drunk, Disorderly Arrestee Racks Up Additional Felony Charges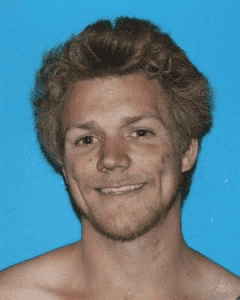 Wilson Tyler Stophel, TCSO Bookng Photo

View Photos
Sonora, CA — An alleged drunk in public arrest escalated into something more serious for one Lake Tulloch Campground recreater.
Tuolumne County sheriff's officials say that deputies were recently dispatched to a late-night report of two men fighting at the campground and arrived to find a male and female yelling near a campsite. After instructing 25-year-old Wilson Tyler Stophel, a Modesto resident, to keep the noise levels down due to complaints being called in to the Sheriff's Office they detained him for suspicion of being intoxicated in public.
During the deputies' investigation, Stophel, reportedly in an irate state, damaged the patrol car he was sitting in by repeatedly hitting his head into the rear driver side window — eventually breaking it. After deputies removed him they say he continued to physically fight with them and while doing so smashed the vehicle's passenger side rear fender.
In addition to facing an alcohol-related disorderly conduct charge, Stophel was also charged with felony counts of resisting an executive officer and damaging the vehicle. At the Tuolumne County Jail he was placed on a warrant hold for an out-of-county misdemeanor charge of providing false evidence of responsibility; the outstanding warrant tacked $20,000 more onto his bond, which totaled $30,000.