Recreation And Library The Focus Of Budget Hearing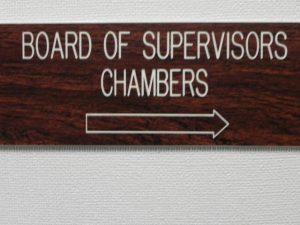 Tuolumne County Board of Supervisors Sign

View Photos
Sonora, CA — The Tuolumne County Supervisors discussed the details of a planned $72-million preliminary General Fund budget for the fiscal year that begins July 1st.
CAO Craig Pedro noted that the spending has increased compared to past years, due to a variety of factors. They include a loss of federal Secure Rural Schools and Community Self Determination Act funding, increased spending for the juvenile detention facility and future jail project, adding additional permanent positions over recent years, multi-year MOU agreements with staff, unanticipated costs related to the Affordable Care Act, upgrading county IT infrastructure, increasing investment in economic development, a state increase to the minimum wage, etc. The county is also funding tree mortality efforts and the cleanup from the winter storms.
Pedro noted that the total proposed operating budget is around $220-million, which is the most expensive budget the county has had, even pre-Tuolumne General Hospital. The upcoming budget includes state grant funding the county is receiving for the construction of the new jail, which is inflating the number.
The supervisors meeting room was packed during this morning's budget session. Many in attendance, including several parents, were there out of concern about cuts to the library and recreation department. They spoke about a need to attract and keep young families, and give them something to do.
The tentative plan on the table calls for the recreation department to lose its various summer sports camps next year, and cut an employee overseeing programs. The library would lose its bookmobile, and also cut relief hours by around 500. Deputy CAO Tracie Riggs noted it could result in modifying some of the existing programs like children's story time. In addition, when there are staff vacations or illnesses, different branches may be forced to briefly close. The Sonora main library would also likely have to reduce its Saturday hours. However, there is money in the budget for the library to add a full-time director position, which it has not had for several years.
It was noted it would take around $93,000 to restore all of the services for the library and $35,000 for the recreation department.
Since the current summer recreation programs are already running, and services would not be impacted until next summer, the supervisors indicated they would like to postpone a decision about whether to cut recreation programs until September, when the final budget is approved, and there is better financial information known.
Some of the board also expressed a willingness put "bridge funding" in the budget to keep the bookmobile and library programs in place until at least September. The Supervisors directed staff to come back this afternoon with an estimated dollar figure for doing so, before a final vote is taken.