Tuolumne Sheriff's Office Seeks Passer Of Phony $100 Bills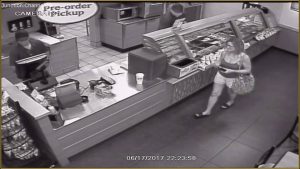 TCSO Suspect Counterfeit Bill Circulator, June 17, 2017.

View Photos
Sonora, CA — Recent incidents of "funny money" circulating at local businesses have Tuolumne sheriff's officials sharing details to both tip off the public and perhaps catch a potential culprit.
According to the Tuolumne County Sheriff's Office, investigators are currently seeking a female suspect who on Saturday allegedly passed a phony $100 bill at Starbucks and attempted to pass another at the Subway restaurant at The Junction Shopping Center.
A photo of the woman was captured in a surveillance photo (viewable in the image box). She is described as being in her late 40's to early 50's; approximately 5'4″ in height with brownish blond hair. Anyone recognizing the suspect with or without knowledge of her whereabouts is asked to call the Sheriff's Office at 209 533-5815.
In the meantime, law officials are sharing a few preventative measures that can be taken to help keep counterfeit money from getting into circulation. While some phony bills are not easily detectable as counterfeit, businesses not already well-familiar with the color, clarity, quality and safety features of U.S. currencies should keep current in order to detect obvious issues. The U.S. Treasury maintains an online resource available by clicking here.
The sheriff's office also notes that simple, reasonably priced devices sold online for under ten dollars. One of these is the Dri Mark Products Tri-Test Ultraviolet Counterfeit Detection System battery-powered pen, which contains a UV light in the cap, which can be used to check for the identifying security thread that confirms the authenticity of U.S. currency.
If someone attempts to pass counterfeit currency to you, officials recommend that if it is at all possible, try to delay the person with some excuse and contact law enforcement — but only if you can do so without putting yourself in danger. Too, they say, keep in mind that the person attempting to pass the counterfeit may not be aware that the bill is fake.
Observe personal details (height, weight, eye and hair color, along with any unique features) of the passer and any companions so you will be able to accurately recount their descriptions to deputies; also write down vehicle license plate numbers if possible.
In order to preserve fingerprint remnants, DNA possibly even certain processing chemicals that can aid law enforcement to tie a bill to a certain counterfeiter, handle a suspect bill as little as possible and place it into a protective cover, baggie or envelope that you can access quickly later.
Immediately report suspicious bills and those who attempt to pass them to the sheriff's office at 209 533-5815.