El Portal Road Reopens In Yosemite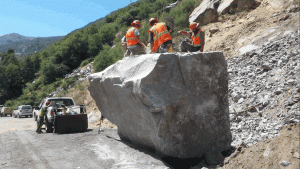 Removing Rocks From El Portal Road

View Photos
Yosemite, CA — A major road in Yosemite National Park is back open following a rockslide that occurred on June 12.
The El Portal Road, an extension of Highway 140, reopened after over 100 dump trucks hauled away rocks and debris from chunks of the hillside that came crashing down. No one was injured as a result of the 4,000 ton rockslide. The Associated Press reports that the closure created extensive delays for park employees, and tourists, who were forced to take lengthy detours. The other major routes, via Highway 120 and Highway 41, remained open.
Last week Yosemite officials stated that the closure would last at least through the weekend, however, they were able to get it open earlier than anticipated, late Saturday.
Park officials note that vehicles are not allowed to stop on El Portal Road starting at the park boundary and continuing for the first two miles. There are signs posted along the roadway.