Officials Extinguish Big Hill Area Fire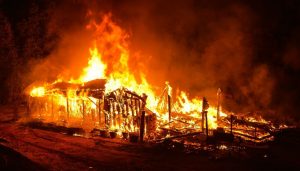 Fire Destroys Borden Road Structure

View Photos
Tuolumne County, CA — Fire destroyed a home early this morning in the 18000 block of Borden Road in the Big Hill area.
The call came in at around 12:15am, and the structure was fully enflamed when the first responders arrived on scene. CAL Fire reports that one firefighter sustained minor injuries while fighting the blaze. What ignited the fire remains under investigation. The Tuolumne County Sheriff's Office reports that no vehicles were in the driveway, and it appears no one was inside the home.
A special thanks to community news partner Darin McKinney for sending in a photo. Pictures can be emailed to news@clarkebroadcasting.com.