Local Fire Safe Councils Share $200,000 In PG&E Preventative Wildfire Funding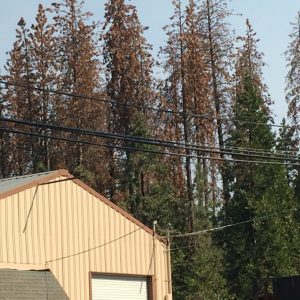 Dead trees along HWY 108

View Photos
Sonora, CA – As tree mortality levels elevate across the Mother Lode PG&E is helping fund targeted programs sponsored by three local fire safe councils.
Specifically, the Yosemite Foothill Fire Safe Council is receiving a $75,000 PG&E grant to apply to its tree mortality aid programs. The Highway 108 Fire Safe Council will be getting $50,000 that it is using to pay for log removals from fuel breaks near county roads. The Calaveras Foothills Fire Safe Council will tap $75,000 in financial assistance from the utility to help cover its door-to-door chipping program as well as defensible space clearing for seniors and disabled citizens.
According to PG&E officials, this is the fourth consecutive year the utility has funded fire safe council projects to help residents protect homes as well as their communities and the local environment from wildfire. This year's awards, which totaled $2 million, were made to 43 councils in 22 counties.