Man And His Dog Taken Into Custody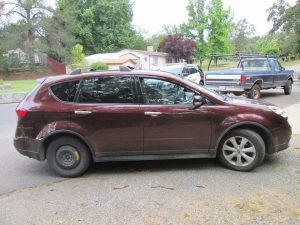 Stolen SUV

View Photos
Sonora, CA – A Sonora man was arrested in an incident that involved a stolen vehicle, a knife, a dog and a drug warrant.
The Tuolumne County Sheriff's Department was alerted on Monday morning to a suspicious vehicle with a man sleeping inside, parked at the office of the Cascade Mobile Home Park on Wards Ferry Road in Sonora. Once on the scene, deputies found a Subaru SUV with paperwork, clothes and a pit bull dog inside, but witnesses told deputies that the man who was inside had left the area on foot. A registration check of the SUV revealed it was stolen in January from the Sonora area.
While still on the scene, 25-year-old Briton Brandsted-Curry who matched witnesses' description approached deputies and asked to retrieve his belongings. A records check found Brandsted-Curry was wanted for failing to appear on drug paraphernalia charges. He was taken into custody and a large fixed blade knife was found concealed in his sweatshirt pocket. Additionally, Brandstead-Curry told deputies that the dog was not allowed out and had to be quarantined prompting Animal Control to be called in due to the dog's aggressive behavior.
Brandstead-Curry faces charges for theft of a motor vehicle, carrying or concealing a dagger along with his outstanding drug paraphernalia warrant.