Yosemite Burn Update: Careful Along Wawona Road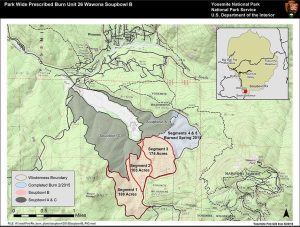 Wawona Soupbowl Burn Map, June 12, 2017

View Photos
Yosemite National Park, CA — Although rain and snow prematurely shut down a prescribed burn last night along Wawona Road, Yosemite fire officials are reporting progress.
Yosemite Fire and Aviation ignited what was tagged the Soupbowl Prescribed Fire Unit between the park's south entrance and the community of Wawona at 7 p.m. and were able to burn five to ten acres along the Wawona Road/Highway 41 extension under good conditions for about two hours.
Today National Park Service and Mariposa County Fire resources are handling mop-up and securing the burn perimeter. Officials note that fire personnel is patrolling the adjacent roadside stretch for hazard trees and potential "cat-face" fires within trunk scars. While both lanes will remain open unless issues arise, motorists are asked to use extra caution, slow for fire personnel and follow traffic control directions.
Looking ahead into the rest of the week, officials say fire management will continue to monitor the area. They also point to a warming and drying trend with well above-normal temperatures by Thursday. It is anticipated that a high pressure ridge setting in will create marginal air quality conditions by Thursday, so smoke will remain present along the road. While there are no planned ignitions for the rest of the week, plans are to find for another burn window at points throughout the summer.