Update: Lightning Fires Result From Thunderstorm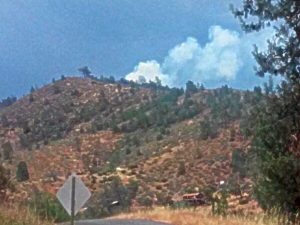 Red Fire, as it initially began to spread, June 11, 2017

View Photos
Update at 4:01 p.m.: CAL Fire officials report that no other lightning-caused fires were located following flyovers looking for them.
A notable one, which ignited during the weekend's thunderstorms and was located last night on Red Hills Road near Chinese Camp is still being attended to, according to CAL Fire. Resources are assigned to work it through tomorrow. At last report, it was described as being at around 80 acres in size.
Original Post at 6:50 a.m.: Chinese Camp, CA — CAL Fire's Air Attack will be up later this morning looking for any lightning caused fires after a thunderstorm passed through the region yesterday afternoon, a notable one was already located late last night near Chinese Camp.
A total of three lightning caused fires were located late yesterday. They were on Red Hills Road near Chinese Camp, Marshes Flat Road outside of Moccasin and near Fowler Peak in Calaveras County. The fires along Marshes Flat Road and Fowler Peak were rather small. However, the fire on Red Hills Road, two miles southwest of Chinese Camp, grew to 80 acres overnight, CAL Fire just reported this morning. It is considered 15% contained. No homes or structures are considered at risk.
Over the weekend, crews across the greater region also stayed busy working to contain an estimated 1,450 acre fire in Madera County, on Oakwood Road. On Saturday it jumped over Highway 41. As of this morning, it is considered 75-percent contained and 1,450 acres.
(A special thanks to community news partner Zack Saldivar for sending the lightning photo)