$8.4-million In Damage To Tuolumne County Roads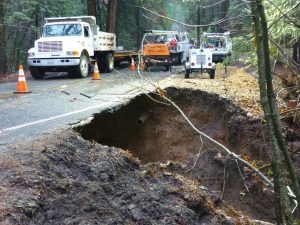 Kewin Mill Road Damage

View Photos
Sonora, CA — The Tuolumne County Community Resources Agency has been calculating the damage that accrued during the winter months.
The road system received an estimated $8.4-million in damage, according to a report issued to the Board of Supervisors this morning. It includes $1.9-million to Italian Bar Road on the Columbia side, an additional $1-million to Italian Bar Road on the Twain Harte side, $1.7-million to Marshes Flat Road, $547,000 to Little Fuller Road, $541,000 to Wards Ferry Road, $524,000 to Buchannan Road, $427,000 to Kewin Mill Road, $234,000 to Evergreen Road, $207,000 to Bennett Road, $169,000 to Old Priest Grade, $148,000 to Rock River Road and $122,000 to Woodams Carne Road.
More minor damage occurred on Old Highway 120, La Grange Road, Red River Drive, Bairds Road, Elderberry Way, Hells Hollow Road, Red Hills Road, Parrotts Ferry Road, Oak View Drive, Eproson Park Playground, Hillsdale Drive, Sunny Circle, Middle Camp Road, Tuolumne Road North and some other areas.
County Administrator Craig Pedro noted that the current $8.4-million figure is a "moving target," and is subject to change.
The share of cost will be 75-percent from the federal government, 18.75-percent from the state and 6.25-percent from the county. The county share could be as much as $525,875 spread over three fiscal years.
At a past meeting, the supervisors voted to provide $94,450 towards the county's share of cost from general fund contingencies. Today the board voted to provide an additional $180,000, leaving an additional $252,425 that will need to be addressed in future budget actions.