Internet Threat Made Against Calaveras Schools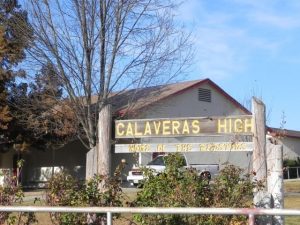 Calaveras High School

View Photos
San Andreas, CA — The Principal of Calaveras High School sent a message to parents this morning about a threat made by elementary students to "shoot up" some schools in the county.
School is in session today, but there is a precautionary law enforcement presence on scene.
The message from High School Principal Mike Merrill reads, "This morning we were notified by Calaveras County Sheriff's Department that there was a threat made by one male and one female Mark Twain Elementary student through internet messaging yesterday that they were going to shoot up their school. They then mentioned that they would head to Calaveras River Academy to do the same, and if cops did not catch them by then, they would go to Calaveras High School. According to Sheriff's Department and Angels Police Department both students are in the custody of their parents and there is no suspected danger to our students, staff or local community."
Merrill's letter ends by stating that additional safety precautions are in place this morning, including sheriff's deputies on campus.
Calaveras Unified School Superintendent Mark Campbell notes that no additional information is immediately available at this time.