No Body Found Near Dragoon Gulch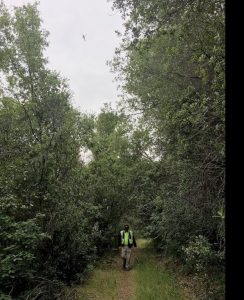 Helicopter searching for possibled deceased person near Fairview Lane off Stockton Road

View Photos
Sonora, CA – Last Friday, a search lasting more than 24 hours was sparked by a caller who reported seeing a deceased person along the trail, but no one was found.
As reported here, a low flying helicopter got the attention of neighbors in the Dragoon Gulch area, then Clarke Broadcasting's phones lit up. Sonora Police Department advised that a person had reported finding a body in the woods east of Fairview Lane. Officers were assisted by Tuolumne County Sheriff's Search and Rescue Team on the ground as they combed the area along Fairview Lane in the Dragoon Gulch Trail.  SPD spokesperson Sgt. Chris Rogers updates that the search lasted overnight with no deceased individual found. Regarding whether it was a prank, Rogers says, "There's no indication that that was the case. People see things and it may appear to be something when in fact it's not. As far as seeing something that wasn't there, I can't answer that question. Definitely it was a call where an anonymous person had called and the caller believed they had found a body. We were unable to locate anything in the area that they described."
The search began around 7 a.m. on Friday and lasted until around 11 a.m. Saturday, according to the CHP.