Arrest Following Sonora Hit-And-Run Crash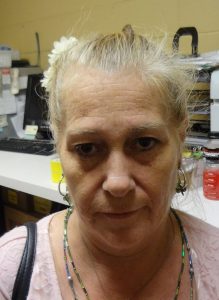 Tammy Roe

View Photos
Sonora, CA — The Sonora Police Department reports that a woman was arrested after allegedly hitting a pedestrian in a downtown crosswalk and leaving the scene.
It happened Sunday afternoon when 53-year-old Tammy Roe of Sonora reportedly turned from Jackson Street onto South Washington Street. The police department reports that she hit a female pedestrian who was walking across South Washington Street, and the victim sustained minor injuries to her left foot, knee and elbow. Roe then left the scene without providing insurance information or reporting the collision to law enforcement. A witness was able to see the license plate number of the 2007 Pontiac Vibe and reported it to the police department.
Roe was located and arrested on a felony charge of leaving the scene of a collision in which someone was injured. The Police Department reports that drugs or alcohol do not appear to be a factor in the collision.