Business Council And Citizens Group Spar Over Stone Mill Lawsuit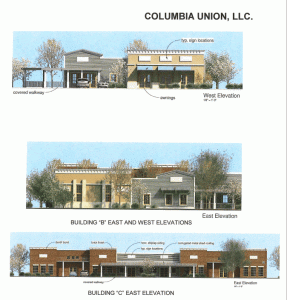 Stone Mill Center Project

View Photos
Sonora, CA — The Tuolumne County Business Council is taking aim at a lawsuit trying to slow the development of the Stone Mill Center in Columbia.
Jeff Redoutey, co-chair of the Tuolumne County Business Council has written a new myMotherLode.com blog entitled "Citizens For Responsible Growth Asked To Drop Frivolous Lawsuit."
The Stone Mill Center project, planned near the Pedro Wye in the Columbia area, was approved by the both the Tuolumne County Planning Commission and the Board of Supervisors earlier this year. The developer says that the 16,000 sq. ft. center will be anchored by a Sonora Regional Medical Center Prompt Care.
The group Citizens For Responsible Growth filed a lawsuit arguing that the county should have required a full Environmental Impact Report for the project, rather than the smaller mitigated negative declaration environmental review.
The business council blog cites a recent editorial written in the Union Democrat newspaper by former ATCAA Housing Resources Director, and community activist, Beetle Barbour. Redoutey writes, "We agree with Beetle's observation that CFRG would be more accurately named Citizens Responsible for NO Growth, as it has been our observation that this small group of individuals has been only opposed to needed economic development in our County."
The blog also questions attorney fees paid by the group, and notes that CFRG should be considered as "controversial" and not the Stone Mill Center project, arguing that only a small group is in opposition.
Clarke Broadcasting reached out to Citizens For Responsible Growth President Barbara Farkas for a response yesterday.  Regarding the argument that only a small number are against the project, she countered that 300 people signed a petition against the Stone Mill Center, and the document was filed with the county. She added that her group paid attorney fees when filing the writ of mandate.
You can read the entire Business Council blog by clicking here. As Farkas and her group are directly criticized, we have included a response from her directly below the blog entry.