Support for Funding FFA And Career Technical Education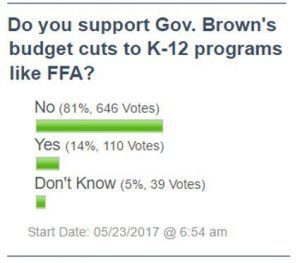 FFA Funding Cut Poll

View Photos
An informal poll question was posted on MyMotherLode on May 23rd asking, "Do you support Gov. Brown's budget cuts to K-12 programs like FFA?" A full 81 percent said No, 14 percent said Yes, and 5 percent didn't know, out of nearly 800 total votes over three days.
On May 11th Gov. Jerry Brown released a revised, $124 billion budget with more spending than he proposed in January but nothing for the category of Career Technical Education (CTE). Our interview with Assemblymember Frank Bigelow regarding the funding cut is in our news story "Bigelow Says More Support Still Needed To Save K-12 Tech Ed Funding" is here.
Since 1928, the Agricultural Education Unit of the California Department of Education (CDE) has been the official sponsor of the California Association of Future Farmers of America (FFA). The student organization for grades 9-12 has been funded for more than a decade through SB 1070, with an annual amount of $15 million out of $48 million given to the California Department of Education and the rest going to the California Community College Chancellor's Office.
The budget proposal will impact more than FFA programs and Agriculture Education, also affected will be in-class instruction for areas such as Business and Marketing including Future Business Leaders of America, Health Careers Education, Home Economics and Work Experience Education as well as programs aimed to prepare and develop CTE instructors.
Gov. Brown's statement about his revised budget notes that funding for K-14 schools has grown. From a recent low of $47.3 billion in 2011-12, funding is expected to be $74.6 billion in 2017-18— an increase of $1.1 billion since January and $27.3 billion over six years (58%) For K-12 schools, funding levels will increase by about $4,058 per student in 2017-18 over 2011-12 levels.
The Governor describes the current Local Control Funding Formula as a way to reinvest and "correct historical inequities in school district funding with $1.4 billion in new funding." The formula focuses most new funding to districts with low-income students, English Learners, and students in foster care and eliminates the deferral of funding that was included in the January Budget.