Clean California Community Days Events A Success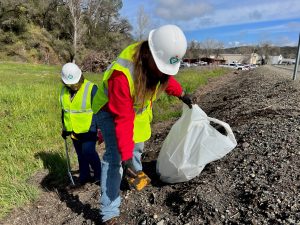 Adopt-A-Highway crew with Chicken Ranch Rancheria picking up trash on HWY 49 in Tuolumne County

View Photos
Jamestown, CA — Thousands of Californians sprang into action to participate in the Clean California Community Days events to clean up roadways, local streets and public spaces.
The statewide 11-days of events from March 17–27 were part of Governor Gavin Newsom's $1.2 billion multiyear cleanup effort led by Caltrans to remove trash, create thousands of jobs and engage communities to transform public areas. Two Mother Lode events were held during the community days. The Adopt-A-Highway crew with Chicken Ranch Rancheria picked up trash on Highway 49 in Tuolumne County, and the Copper Hills 4-H collected garbage along the Natural Bridges Trail off Parrotts Ferry Road in the Vallecito area of Calaveras County, as earlier reported here.
"Clean California is empowering communities and restoring pride in our shared spaces up and down the state, and I thank the thousands of Californians who banded together for the Community Days events to beautify and transform their neighborhoods," said Governor Gavin Newsom. "By making a difference at the local level, we are helping create a cleaner, more beautiful California for all."
Caltrans provided this update on what was accomplished during the Clean California Community Days:
Hundreds of local events, including 58 tree planting/gardening events with 363 trees planted; 265 community trash collection events; 202 public community cleanups; 39 educational and entertainment events; and six temporary public art installations.
1.64 million pounds of trash collected during the 11-day period—five times the weight of the Statue of Liberty.
More than 10,500 volunteers participated in community beautification efforts.
Caltrans Director Tony Tavares added, "The overwhelming response and participation from Californians throughout the state to transform community spaces demonstrates the power of Clean California."