Drug Bust Results In Tuolumne Man's Arrest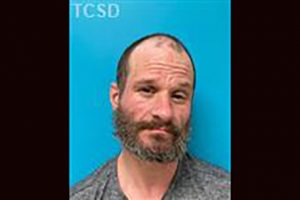 Michael Jeffreys

View Photo
Tuolumne, CA – A traffic stop in Tuolumne prompted a search of the driver's vehicle, which uncovered fentanyl and meth.
On Monday evening, an alert Tuolumne County Sheriff's deputy recognized a passing vehicle's driver as 42-year-old Michael Jeffreys, who had a felony warrant for his arrest. The deputy pulled the vehicle over in the area of Tuolumne Road North near Carter Street in Tuolumne.
A record check proved the deputy right, confirming the felony warrant and also noting that he was on probation. That allowed for a search of the vehicle, which turned up four small plastic bags and a plastic container with around 33 grams of methamphetamine, a small bag containing about 1.4 grams of fentanyl and drug use paraphernalia.
Jeffreys was handcuffed and transported to the Dambacher Detention Center where he was booked on charges of possession of a controlled substance for sale, a narcotic controlled substance, drug use paraphernalia, and a felony warrant.