Caltrans And Forest Service Update Road Storm Damage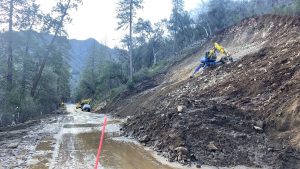 HWY 140 east of Briceburg storm damage work
Tuolumne County, CA – Caltrans and Stanislaus National Forest road crews update storm damage and some current repairs expected to last several more weeks.
Caltrans District 10 continues to clear a slide on Highway 140 east of Briceburg in Mariposa County. Drivers are currently being detoured around a slide between Foresta and El Portal roads, adding travel time for motorists. Caltrans crews hope to clear away debris to allow for one-way traffic control beginning next week. The one-way traffic would continue for another 2 to 3 weeks to remove all the remaining material and debris.
On the Stanislaus National Forest in Tuolumne County, engineering crews took a drone video while assessing storm damage on Mather Road. It shows large swaths where landslides occurred along the roadway. The video can be viewed in the image box.