Lake Tulloch Prepares For A Big Season, Public Use Improvements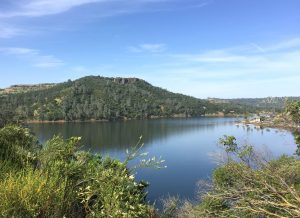 Lake Tulloch

View Photos
Jamestown, CA — Among the Mother Lode's brimming reservoirs Lake Tulloch sits ready for recreaters as news buzzes of more public access in the wings.
While the primary public access point remains on the south shore, the reservoir's owners, the Tri-Dam Project, are signaling plans to provide north shore access from O'Byrnes Ferry Road near the Lake Tulloch bridge.
"We are working on developing a public access point at that site," explains Tri-Dam spokesperson and license compliance coordinator Susan Larson.
Possible Concept Plan Submission In July   
Catching Clarke Broadcasting up on the progress of the Tri-Dam partners' efforts, she confides, "We have already done consultation with [Tuolumne and Calaveras] counties and other required state and federal agencies and now will probably sometime in July be making a formal application to the Federal Energy Regulatory Commission (FERC) and working on obtaining all the approvals that we need from FERC to move forward."
Sharing what the public may want to know about the recreation season ahead, Larson effuses, "There is plenty of water in Tulloch…the public should feel very comfortable accessing the reservoir at the South Shore Campground and Marina and know that the Tri-Dam Project is actively working to develop a public-use day-access area on the north shore. That property is a great spot for people to put a kayak or a canoe in the water near the bridge and five-miles-per-hour zone, where they will immediately be upriver."
Locals may recall that the parcel was formerly owned by the late Merle Holman, who operated a small marina there. His heirs eventually sold the property to Tri-Dam after he previously entered into but then subsequently pulled the purchase agreement with them out of escrow.
FERC Approval Stamp Required
Tri-Dam's concept plan offers two options (which may be viewed within the slideshow link in the image box). "In our application we will explain how we believe it will provide public access to the reservoir and [FERC} will go through their process," Larson says.
With regard to timing she adds, "We will move forward as rapidly as we can. But until we get through the federal approval process, it is hard to anticipate exactly when the project will be able to get underway, although the Tuolumne County Board of Supervisors issued a letter of support."
Continuing, she states, "The anticipation is that the site will include a parking area, picnic area and a restroom…probably a fishing pier and car-top boat launching spot for canoes and kayaks." Parking and land use, as she points out, are long-time issues in that area, as people continue to illegally park near the bridge.
Ongoing Public Access Issues
Too, she says, "Along the rocks on both sides of the bridge are privately owned properties and people are not supposed to walk on the bridge." Larson dubs what looks to be a trail access on the Tuolumne County side of the bridge a "fake public trailhead" because the land there is not public. So those using it are technically trespassing.
"There is a difference between true public access, that being an access point to the reservoir that is truly owned or operated by a public entity…and that would [solely, at this point] be the Lake Tulloch South Shore Campground and Marina," Larson states. The land there, actually owned by the Department of Fish and Wildlife, is on a long-term lease to Tuolumne County, which has a concessionaire's agreement with operator John Stivers.
Larson maintains that the South Shore Marina, whose address is 14448 Tulloch Road, Jamestown, will remain the primary access area. The ramp there was built with public funds from the California Department of Boating and Waterways and later expanded to provide six launching lanes. There is no fee to launch although the operator is allowed to charge a nominal parking fee.
Tight Quarters At Lake Tulloch Place
Seekers of north shore access for at least the time being must continue to do so through private means, such as the limited access provided for boat launches at Drifters Marina, located at 6603 Lake Tulloch Place, which is not only adjacent to but shares the same cul-de-sac as entrances to the Calypso Bay and Conner Estates subdivisions. According to its website, last year's first-come, first-serve charge to use the one-lane launch ramp was $30 with harbor fees costing extra.
Interestingly enough, Tri-Dam holds ownership of the vacant, 2.7 acre parcel located adjacent to Drifters, having acquired it after learning about its availability through FERC in the interim when it seemed that it would not be possible to lock down the sales agreement for the O'Byrnes site.
Over the course of time the property, which includes a narrow easement controlled by Calaveras County for decades, has been used by marina patrons and other members of the public as a de facto trailer parking area. Since the property remains unimproved, and located on a steep grade, it presents safety issues. Larson recounts that Tri-Dam had at one point installed a gate. However, in recent weeks it was removed at the request of county officials who wanted the public to be able to access the easement.
Moving Forward Plans 
Although Larson says that Tri-Dam had earlier prepared a concept public day-access plan for its Calypso property it decided to proceed with those to develop the O'Byrnes property due to its proximity to a main road and former use as a marina area.
Asked if the Tri-Dam board might be open to a future possibility of working with the county on developing the other parcel Larson says, if the county is interested, it would certainly be a discussion-worthy topic.
For details on public access from the south shore, click here. For more on north shore access, click here.