Crabtree Announces Retirement Plans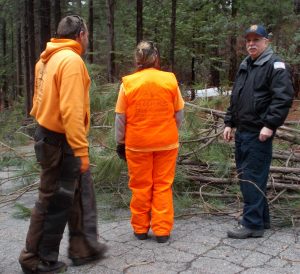 Fire Chief Larry Crabtree of Mi-Wuk Sugar Pine Fire Protection District Stands to the right

View Photos
Mi-Wuk Village, CA — Change is on the horizon for the Mi-Wuk Sugar Pine Fire Protection District.
Chief Larry Crabtree formally announced to the fire protection district's board of directors last night that he will be retiring next year, effective May 1, 2018.
He tells Clarke Broadcasting there are multiple factors that led to his decision.
Crabtree says, "There's kind of a perfect storm of events that are occurring. My retirement opens up a lot of options for the department. The county is doing a countywide fire service study and the results should be out in September of this year. In addition, the Mi-Wuk Sugar Pine Fire district adopted a strategic plan this year, and part of that plan includes studying and reviewing opportunities for operational integration with other local agency fire departments. And then our every five-year municipal services review from LAFCO is coming up this fall and next spring. So, those four things all kind of come together, and it gives the department an opportunity to look at where its future lies, as far as leadership, and administration."
Crabtree says he will remain in the area, post retirement, and plans to serve in a volunteer role. He will also continue to operate his consulting company, Crabtree Consulting Services, LLC, which provides services to smaller public agencies.
Looking back at his time with the district, he says the response to the 2013 Rim Fire is by far the most memorable.  "What really stood out about the Rim Fire is the way the community came together. People that had never talked to each other in the community were all of a sudden best friends," he said.
Crabtree was involved in putting together the community meetings at the Word of Life Fellowship Church during the fire.
Crabtree has also been recently instrumental in the response to the bark beetle infestation.
During his tenure, he has also helped bring in approximately $250,000 in grant funding for the district.
Crabtree was hired to lead the department in 2013 at the heels of a 33-year fire service career. He had retired from CAL Fire in 2006.